https://media.graphcms.com/resize=fit:clip,height:630,width:1200/4hqt8QShTyC2m7AJIoBr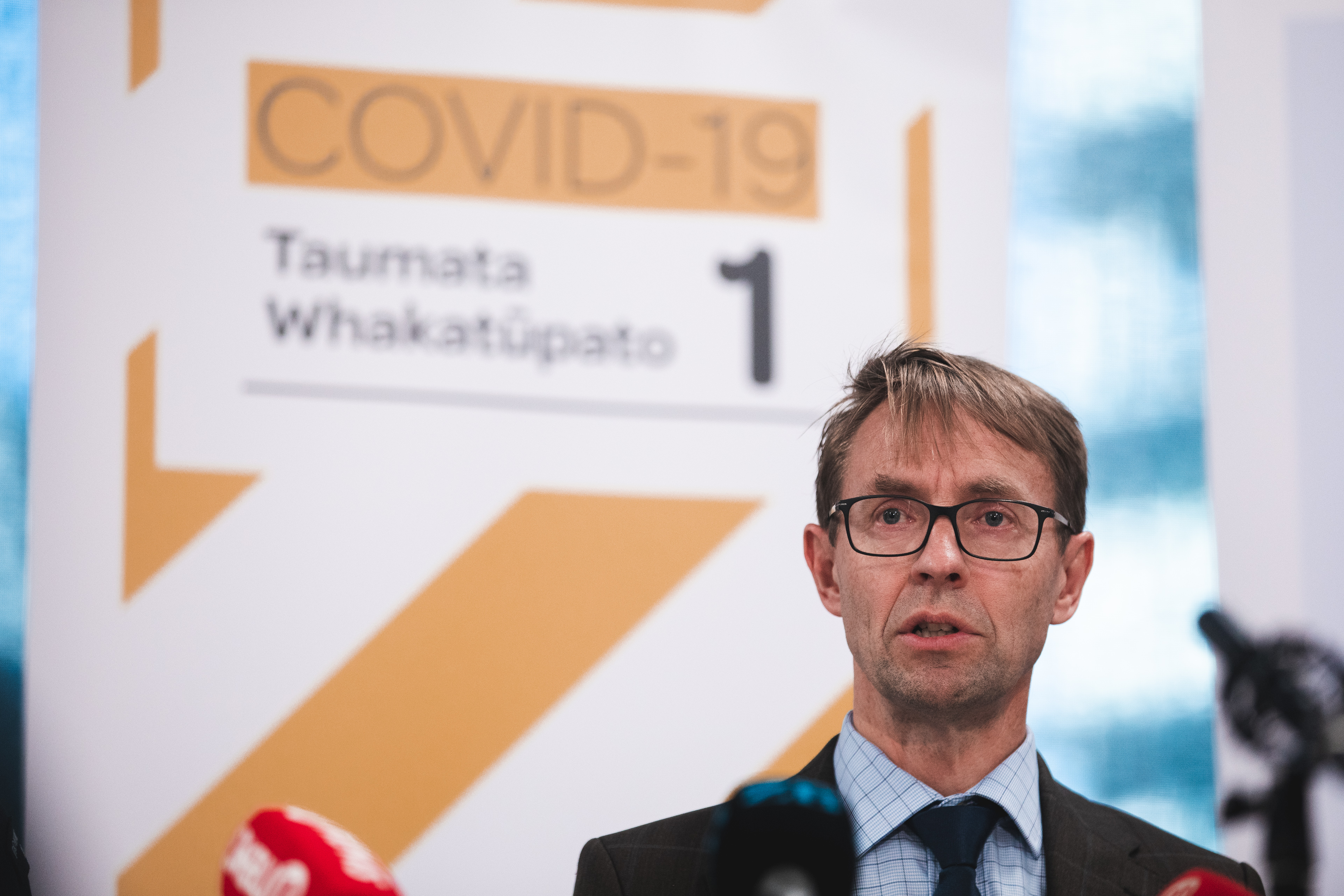 Photo: RNZ / Samuel Rillstone
Dr Ashley Bloomfield says no, his US counterpart Dr Anthony Fauci has not been on the phone asking for advice on how to contain Covid-19.
"He doesn't need my advice," he said, in the measured manner he's become known for.
"He needs his political leaders to listen to his advice."
The Ministry of Health had so many requests for end of year interviews with the director-general that they packed media together after five, for a panel that includes chief science advisor Dr Ian Town and Air Commodore Darryn 'Digby' Webb, who keeps calling the director-general 'Ash'.
The trio are smiling, upbeat, confident that there won't be any community outbreaks over Christmas; aware it could have been a very different picture.
"[It's] the fact that our political leaders were first of all motivated to protect the health and wellbeing of their citizens, and secondly prepared to listen to the advice from people who they felt had good advice to provide," Dr Bloomfield said.
He won't say who came up with the alert level system, beyond "some very clever analysts". But he credits the system as the enabler for such a swift move into lockdown.
"When the Prime Minister told New Zealanders on the 23rd of March, 'we're going into alert level 3 and in two days time we'll be in alert level 4,' no one said why. Because I think people understood, we had taken them on that journey through regular, transparent and open communication on what we did know and what we didn't know."
The first message had come in early January, he said, news of an "unusual, respiratory condition or flu" in Wuhan, China.
By the third week of the year, the daily media updates had begun.
Journalists trickled into the Ministry of Health's meeting rooms in summer shirts, to hear how the virus was moving through China. On January 27, Dr Bloomfield told them there was a high likelihood there will be at least one case in New Zealand.
On January 31st, he told them of the first suspected case of Covid-19 in Auckland. It was a false alarm — New Zealand wouldn't have it's first confirmed case for another month. By then, the daily briefings were a stalwart of daily news and soon earned their own listing on IMDB (with a prime rating of 9.5/10).
"It did feel a little bit like I was having a performance review at one o'clock every day, broadcast live on television. But that's as it should be — your job is to ensure that we're being held accountable for our response."
He famously took a day off on March 28.
'Go home, stay home'
He can still pinpoint the moment when the penny dropped. It was Sunday, March 22.
"I remember it well — there was a real convergence of views. We could see what was happening in the UK and other European countries where the virus had gotten out of control."
Officials realised that if they weren't able to manage it through testing and tracing — which no one had been able to do — the only move was to eliminate community transmission.
"For me it was a moment of — two weeks' time is going to be too late. And that's the advice we gave, and that advice was taken," Dr Bloomfield said.
"You could almost feel a sigh of relief. People had realised, yes, we need to do this. Then they asked us 'what do you want us to do?' Well, that's easy — go home, stay home."
Next came the deification of the doctor. But in late-June, failures at the border led to criticism , an unforgettable look of resignation from the director-general, then an actual resignation from the health minister.
Dr Bloomfield still finds the fanfare weird, and he's uncomfortable taking credit for the country's success.
"You might be aware there are T-shirts with my face on them that say 'curve crusher'. Actually, it was New Zealanders who crushed the curve. We set out to flatten the curve and we crushed it because people understood what they needed to do to look after each other and protect our vulnerable populations.
"And I do hope the Kiwibank New Zealander of the year is the team of five million."
2021: keep up elimination
Next year will centre around keeping Covid-19 out of the community, he said.
"The elimination strategy is what served us in 2020 and we will carry that into 2021.
"I hope it doesn't bring other surprises. But I think next year, Covid will still be a big feature in our lives… We will make sure we're ready to vaccinate New Zealanders as soon as we have a safe and effective vaccine."